tactix Bravo
Üldinfo
Militaarrakendused ja taktikalise sportimise rakendused vastavas kestas
1.2" kõrgresolutsiooniline Garmin Chroma Display™ värviline ekraan kumera safiirklaasiga
Kahereziimne taustvalgustus: tavakasutuseks pimedas ja vaatamiseks öövaatlusseadmega
Roostevaba EXO™ antenn, mis ümbritseb ekraani on kaetud süsinik-kihihiga kulumiskindluse tõstmiseks ja peegelduste vältimiseks
Sünge matt-must, vastupidav disain on välja töötatud välitingimustes koostöös sõduritega
Kõrgtundlik GPS/GLONASS vastuvõtja
Sõjategevusteks kujundatud profiil hõlmab taktikaliste tegevuste infovälju kahe erineva koordinaatsüstemi samaaegset näitu ja eelsalvestatud rakendusi nagu Jumpmaster ja vahepunktide projektsioon.
tactix® Bravo on GPS sportkell taktikalisteks treeninguteks, välitingimustes navigeerimiseks koos militaarsete funktsioonidega ja sportimis- ning nutirakendustega. Kell on ettenähtud kasutamiseks ekstremaalsetes tingimustes ja on sõjaväelise suunitlusega.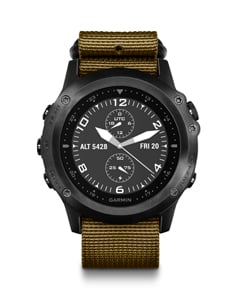 Serious Style That Stands Up to the Roughest Conditions
The appearance of tactix Bravo is all kept unobtrusive with non-reflective DLC coated black metal parts and curved lens to avoid reflection. It comes with two tough, interchangeable 3-ring nylon straps, including black and olive drab. The watch features a protective stainless steel EXO™ antenna with bezel coating of black diamond-like carbon (DLC), knurled for increased abrasion resistance, anti-reflectivity and rugged finish, and a ultra-strong glass fiber reinforced housing for extra durability. A sunlight-readable, high-resolution colour Chroma display with LED backlight backlight shows your data clearly in any light. User-activated "night vision mode" reduces backlight settings to a level that doesn't interfere with the operation of night vision goggles. tactix Bravo watch is water-rated to 100 meters and has a battery life of up to 50 hours in UltraTrac™ battery saver mode, 20 hours in GPS mode and up to 3 weeks in smartwatch mode (all depending on settings).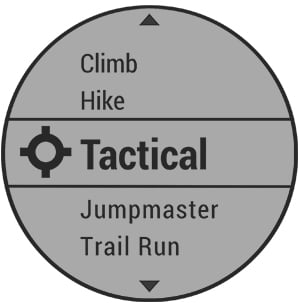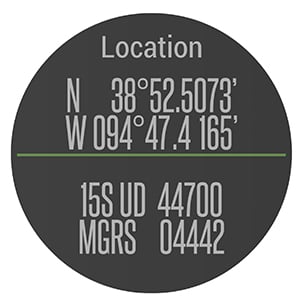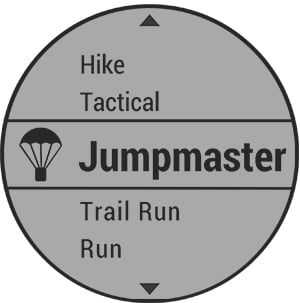 Built-in Tactical Features
Tactical features include a dedicated tactical activity profile, Jumpmaster activity, projected waypoints and dual-format position format GPS Coordinate Data Page that supports MGRS, Degrees Minutes Seconds and more.
Navigate Your Way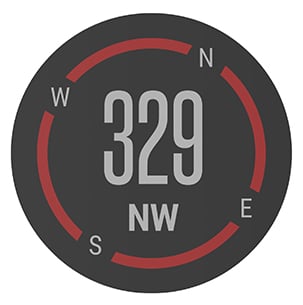 tactix Bravo provides comprehensive navigation and tracking functionalities to guide you on and off the beaten path using GPS plus ABC (altimeter, barometer and compass). TracBack® feature navigates you back to your starting point the same way you came. Its built-in sensors provide information on heading, elevation and weather changes. It records a GPS track log, creating a "bread crumb trail" as you move. It also allows you to mark locations, such as, targets, drop zones, RV's, ERV's or check points. With tactix Bravo, you can create and navigate to a waypoint or follow a course as well.
tactix Bravo is equipped with both ANT+® wireless connectivity and Bluetooth®3 and has smart capabilities to wirelessly share locations and routes.
More than just ABC sensors
tactix Bravo is equipped with a barometric altimeter and an electronic 3-axis compass. The device auto-calibrates these sensors using its GPS receiver to provide the most accurate information possible. The built-in altimeter provides elevation data to accurately monitor ascent and descent, while the barometer can be used to predict weather changes by showing short-term trends in air pressure. The 3-axis electronic compass provides accurate bearing under all condition to keep tactical awareness without moving out of position. For accurate temperature reading from the watch, pair the tactix Bravo with our external tempe temperature sensor.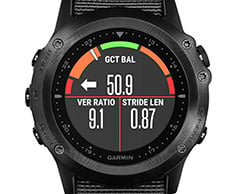 The Proof of Your Potential
tactix Bravo watch is packed with additional training features to tell you about your form and fitness. The VO2 max estimator crunches data, including your running speed, beats per minute and heart rate variability to estimate the maximum volume of oxygen you can consume per minute. Track changes to see your fitness gains and to compare with your peers. Other fitness metrics include recovery advisor with a recovery timer and recovery check, plus a race predictor, which estimates your ideal finish time based on your current VO2 max number.
Assure you are Ready
Once running gets serious tactix Bravo with optional HRM-Run monitor tracks all the advanced metrics that are needed to better understand and improve:
Advanced Running Dynamics analyse your running:
Vertical oscillation and ratio — the degree of 'bounce' in your running motion and the benefit ration to stride length

Ground contact time and balance — shows how much time, in the running motion, your foot is on the ground rather than in flight and lets you check your running symmetry
Cadence — number of steps per minute
Stride length — determines a responsive current pace
Physiological metrics measures your heart to provide:

Stress score - tactix Bravo measures your heart rate variability while standing still, for 3 minutes, to provide you with an estimated stress level. The scale of this is 1 to 100, low scores indicate lower stress levels
Performance condition - After running for 6-20 minutes, tactix Bravo compares your real-time condition to your average fitness levels
Lactate threshold - Through analysis of your pace and heart rate, tactix Bravo estimates the point where your muscles start to rapidly fatigue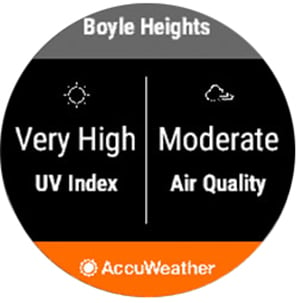 Custom Apps and Watch Faces
Personalise tactix Bravo watch with free downloads from our Connect IQ™ store. You can customise your watch face, add data fields and get apps and widgets that provide information at a glance.
Stay Connected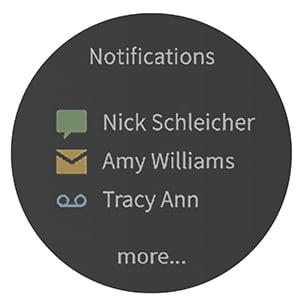 Smart notifications³ let you receive emails, texts and alerts right on your watch, even if you're on the trail. tactix Bravo receives the wireless signal from a compatible smartphone4 and lets you know you have a message by displaying the text on its own screen whenever you're ready to read it.
Other connected features include automatic upload to Garmin Connect online fitness community, live tracking and social media sharing through our free Garmin Connect and Garmin Connect™ Mobile applications. Remotely control both the music from your phone and your VIRB® XE action camera. Find My Phone and Find My Watch capabilities included. Activity tracking4 counts daily steps, calories burned and stairs climbed; sleep tracking monitors your sleep patterns for additional health insights.
¹Heart rate monitors and HRM-Run, sold separately.
²Requires HRM-Run monitor; included in some bundles, also sold separately.
³Phone must be Bluetooth® Smart. See Garmin.com/BLE for compatibility.
4Activity tracking accuracy
Device wear and care
The Bluetooth word mark is owned by the Bluetooth SIG, Inc.
tehnilised andmed
Physical & Performance

Physical dimensions
51.5 x 51.5 x 16.0 mm
Display size, WxH
30.4 mm diameter
Display resolution, WxH
218 x 218 pixels; transflective MIP colour; sapphire lens
Color display
Jah
Negative mode display
Jah
Weight
80.5g
Battery
Rechargeable 300mAh lithium-ion
Battery life
Up to 50 hours in UltraTrac mode; up to 20 hours in GPS training mode; up to 6 weeks in watch mode
Water rating
10 ATM
GPS-enabled
Jah
GLONASS
Jah
High-sensitivity receiver
Jah
Barometric altimeter
Jah
Electronic compass
Jah
Smart notifications (displays email, text and other alerts when paired with your compatible phone)
Jah
Vibration alert
Jah
Music control
Jah
VIRB® control
Jah
Watch functions
Time of day (12/24h), calendar (day/date), daily alarm, stop watch, timer, sunrise/sunset alerts
Maps & Memory

Built-in memory
32 MB; available 23 MB
Waypoints/favorites/locations
1,000
Routes
30
Running Features

Virtual Pacer™ (compares current pace to target)
Jah
V02 max estimate
Jah
Recovery advisor
Jah
Race predictor
Jah
Running dynamics
Jah
Accelerometer (calculates distance for indoor workouts, without need for a foot pod)
Jah
Personal records
Jah
Cycling Features

Compatible with Vector™
Jah
Multiple bike profiles
Jah
Bike speed/cadence sensor
Jah
Performance Features

Heart rate monitor
Yes (Some versions)
Virtual Partner® (train against a digital person)
Jah
Virtual Racer™ (compete against other activities)
Jah
Auto Pause® (pauses and resumes timer based on speed)
Jah
Multi-sport (changes sport mode with a press of a button)
Jah
Auto multisport (switch sport modes with 1 button press)
Jah
Advanced workouts (create custom, goal-oriented workouts)
Jah
Pace alert (triggers alarm if you vary from preset pace)
Jah
Interval training (set up exercise and rest intervals)
Jah
Heart rate-based calorie computation
Jah
Calculates calories burned
Jah
Training Effect (measures impact of an activity on your aerobic fitness)
Jah
Swimming Features

Pool swim metrics (lengths, distance, pace, stroke count/rate, calories)
Jah
Stroke type identification (e.g. freestyle)
Jah
Open water swim metrics (distance, pace, stroke count/rate, calories)
Jah
Golfing Features

Measures shot distance (calculates exact yardage for shots from anywhere on course)
Jah
Yardage to F/M/B (distance to front, middle and back of green)
Jah
Yardage to layups/doglegs
Jah
Tracks stats (putts per round, greens & fairways hit, average distance)
Jah
Digital scorecard
Jah
Outdoor Features

Hunt/fish calendar
Jah
Sun and moon information
Jah
Area calculation
Jah
Activity Tracking Features

Step counter
Jah
Auto goal (learns your activity level and assigns a daily step goal)
Jah
Move bar (displays on device after a period of inactivity; walk for a couple of minutes to reset it)
Jah
Sleep monitoring (monitors total sleep and periods of movement or restful sleep)
Jah
Garmin Connect™

Garmin Connect™ compatible (online community where you analyze, categorize and share data)
Jah
Automatic sync (automatically transfers data to your computer)
Jah
Additional

Additional

Connect IQ™ app support: Yes (watch faces, data fields, widgets and apps)
EXO™ antenna (GPS/GLONASS): Yes
Wi-Fi®: Yes
ANT+®: Yes
Bluetooth® 4.0 LE: Yes
Weather Alerts: Yes
UltraTrac: Yes
tempe™ sensor support: Yes
TracBack: Yes
Ski features: Yes
Physiological measurements: Yes
SUP/Rowing: Yes
Projected waypoints: Yes
Jumpmaster activity: Yes
Dual-position format: Yes
Tactical activity: Yes
Night vision compatible: Yes
30 Toodet samast kategooriast